She was born for me
Mrs.Sheila Kapur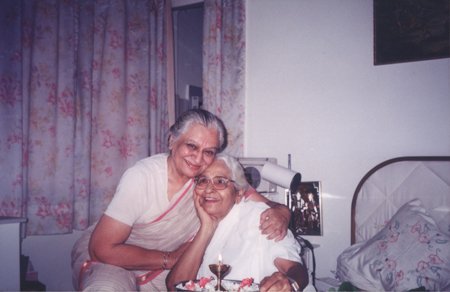 Walking into the Ekambaram Temple at Conjeevaram in 1942, I prayed hard to Goddess Kamakshi to become my Saviour. She literally walked out of her statue and was my constant companion for the next twenty years. She planned with me, chatted with me, and in fact, took parting each thought of mine – in every frolic and woe. Her permeating influence was so deep and vivid that we lived like twin sisters, and affection often gave place to worship.
Suddenly one afternoon, whilst we were in the thick of the battle waged by late Sardar Partap Singh Kairon, the then Chief Minister, Punjab against my husband, Shri R.P.Kapur, Kamakshi quietly slipped away. I felt the pangs of separation terribly and was heartbroken. When she did not return I went to the extent of insinuating that She was insincere and unfaith, deserting me in my hour of need. I was angry and exasperated – but then, one is helpless against the Gods, anyway!
At this juncture, worldly fate turned a dark complexion – cloud gathered on all fronts and misfortunes fell like abounding hail and rain. I met Respected Ma, who was at that time immersed in Puja, having changed overnight from an ultra-modern popular figure to a solitary housebound worshipper, engrossed in prayer. Except for her fascinating poetic flow addressed to Lord Rama in the Mandir that really charmed me, I could not possible gauge the depth of her mental state. I presented my grouse against Kamakshi in the remote hope of a clarification. She just smiled and said, "Wait and see".
Things were getting politically hot for us. Our enemies were trying to corner us on all counts. My husband had been suspended from service and even the ladies were involved in all sorts of litigation – bailable and non-bailable warrants were the order of the day. In such a state of affairs, a time came when there was danger to my husband's life. Nothing could have shattered me more – as in anything less than that, we were over-confident of our ability, integrity and unity as a family unit that faced odds most bravely and courageously.
The heat of the summer added to the heat above, and still hotter was the afternoon when in the blazing sun, landed Ma from Jalandhar with the express mission of exchanging cars – hers that had just returned from the workshop fully renewed and checked, and ours non-functional fifty percent. I hesitated at her generosity but Ma's reply was "it does not matter, the Lord has ordered so". She related a story of her experience wherein Kali Ma had appeared in her Mandir requesting Ma to help R.P.Kapur "her devotee", who was in great trouble. Ma looked at Ramji, who nodded consent. Ma did not give a second thought to the commandment and reached Madhuban posthaste. Such was the divine help of Ma in our dire need and circumstances so grave. Her protective hand on myself and my family renewed memories of Kamakshi. It struck me that the Goddess had returned in a more explicit and forceful form, according to the need of the hour.
With this confidence within me, I felt more secure than ever before and forgot all my worries. Saddled with as many as forty cases at the same time, I was still unperturbed on Ma's assurance that all would end successfully. We fought hard and won case after case. My husband was sending message of thanks to Ma for her Grace. At times, he would see her in dreams and get a lead up. Downcast occasionally he would hear her say, "get up and look into that file". In another experience, whilst standing in Court, when the trend of arguments were getting adverse he thought of Ma – and immediately things moved in his favour. He later wrote to Ma thanking her for her grace and sought her blessings. We had reason to be more than grateful.
The ordeals were unexpectedly over – but in the family, emotional disturbance, discord and disintegration took place, where I oscillated and vacillated between my husband and my children. The younger son was the first to revolt. As luck would have it, he had worked the hardest in the worst days, but the display of temper and harsh treatment coupled with the ingratitude in not acknowledging that victory was due to Ma's doing, cracked up all his ideals. He severed his relations with us, which broke me. This is the common story of every home today – some exposed, others to be disclosed after the morrow. Ma had warned me once before of this eventuality, but like any proud mother who gloats over her 'special brood", I had ignored her words and hardly paid any heed to her priceless diagnosis – alas! much to my own cost.
The Lord's Grace again descended on me in the form of Ma and her rock-like personality. I was miserable – then I saw Ma standing in the doorway. I thought it was a vision, but it turned out to be real. I wiped my tears and asked "What brings you here?" in a most formal way, as if not willing to disclose my heartfelt feelings. Ma's look was penetrating – perhaps it intuitively conveyed to me that she knew all – and I burst out loudly "I can't bear it any longer". Seeing my anguish, Ma pulled up a stern face: "Behnu! Am I dead that you have to weep like this?" This assurance was like a balm to me, but later I found that my daughter was also in the same situation, though her circumstances and the reason for the predicament was very different. All other factors were such that my forbearance snapped and one day, I left home in desperation without disclosing my destination to anyone.
Ma moved heaven and earth to locate me – was constantly at the wheel of the car and ultimately at 2 a.m. one day she discovered me at Brindabun. Only her insight could have led her there and if she had not come, God alone knows where I would have left for the next day. But I refused to come back home in spite of Ma's pleadings and ultimately an agreement was reached, that I would live with Ma in the Ashram and not go home. I was in pain – sick with mental agony and shock – and it was then that Ma gave me the protection of her embalming arms. I had no confidence left in the world when my own people had trampled on me so. Ma would take hours relaxing me and explaining how the gunas (qualities)of individuals act and react on other individuals – all relating to my problems – and made me aware of my lack of understanding.
My daughters and I were now all inmates of the Ashram – and soon my mother had to join there because of the extremely strained circumstances. Ma was the life-saver and gradually, in the years that followed, she built all of us up and made us stand on our own feet.
In the process, Ma was getting physically depleted and exhausted, but she was unmindful of her physical discomfort, the infamy and the motivations attributed by people to her – what mattered to her only was my mental stability. One is left just aghast at her superhuman spirit of selflessness and complete identification with the sufferer. As a result of Ma's guidance and untiring efforts of the past many years, it was possible for us to be a united home today – without any bitter feelings for each other. We are a happier people now, content with our lot and with the strength now to stand up for the right cause. All that we have today is Ma's personal gift to us. In gratitude, I feel like repaying, but what repayment can there be in my case, where she has done the world of wonders for me at all the levels – gross, emotional and intellectual? O God! I crave for strength today to be able to serve the world as she has served me. There was a day when I wanted to die – now I wish to live! Today it is Happiness and Contentment that speaks within me. I too, wish to serve others. That can be my only token of Gratitude to the One who has moved heaven and earth for my sake. Today I feel a free bird – less troubled and affected by the world without – unshackled and unhampered within – I wish now to pour forth all the solace I can to tormented hearts. Ma has shown me how. Blessed be her Bounty.
The definition of "love" is clearer to me today than ever before. We have seen Ma's Love in its purest, unsullied form. We have loved her in our own way. She has her own, but her love is an inspiration to us. She has loved the Atma within us, as removed from the external evidence of Gunas. She has never failed us. She loves and loves always. I, for one, have loved her deeply but vacillatingly. When complexes stand in the way, I withdraw, I shirk – but I can't for long. I feel as if segregated from the Self – as indeed, She is my Self. It is a story of many births, not just one. I can "see" that from the magnetic attraction She holds for me. She is my Guardian Angel, the sun that lights my Path. The moment I turn away for a while, I lose my path. After fumbling in the dark, I return to her like a lost child. Again and again she has put me on the track, when repeatedly I have failed her. But whenever I return, I find the same welcome in her open arms, and each time I return I find myself a better person, fitter to serve the world that she serves. How can one realise the Divinity of such Love? "To see is to believe, to get is to feel, to have is to pour forth". This is Ma as Love incarnate. To bask in her sunshine or bathe in the ecstatic flow of her love, I would crave for many more births to come.
To become Love Itself, you have to love others. A man will know the abiding reality of love within him when he seeks union without possession. This is mergence of one's Self into the other at the intellectual, emotional and gross level –it leads to Bhakti which culminates in Advait. Love thus universalized is Yoga – the union with the Atma.