Love that Transforms
Raizada Kamal Kumar Vaid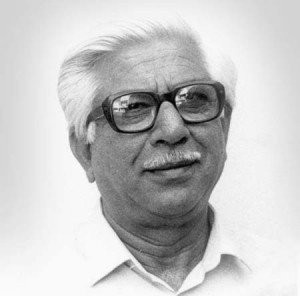 By nature a rebel and averse to authority, I was disliked by my seniors and thus transferred from one department of the Punjab University to another, and finally posted to work under the Director of Physical Training (Women's section) at Jalandhar.
Partly on hearsay and partly because of my own rebellious nature, I imagined my new boss as a strict task master, and determined to defy her and show her place as a woman…
On the 4th of December 1957 I arrived at her office to report on duty. Incessant rain had delayed and drenched me and apprehensive I prepared myself, as was usual with me by now, for a nasty confrontation and rebuke with a "couldn't-care-less" attitude.
I pressed the call bell and was ushered in – to be greeted by a smiling lady who exclaimed "Oh, you are drenched! Why did you come in this pouring rain? You may fall sick, go and change!" , and She ordered her servant to take me to the guest room and provide me with a towel and a suit of clothes (which I came to know later, belonged to one of her brothers). I had never before met with such a treatment in my life from anyone, whether in office or at home, and wondered as to who this lady was. My attitude of sullen defiance crumbled down at this totally unexpected treatment, and bitterness melted into a warmth of feeling that I had never experienced before. When I returned to her room after changing, a hot cup of tea awaited me.
Later on she encouraged me to study privately and pass university examinations in order to improve my career. I was never the keen hard working type. She bought books for me, persuaded me to study and ultimately ordered me to go into her guest room and study from morning till evening, undertaking to do my clerk's job herself, working both as the boss and the clerk in her office for three months, thus making it possible for me to study and pass the university examinations.
After that, she felt my present job did not hold very good prospects for me and therefore wanted me to get a better job somewhere else; but I refused to leave her; I could no longer remain away from a motherly sister who had not only won me over, but who had also entirely changed my personality and my attitude in life!
The more I worked with her, the more I became aware that she was a unique being, the like of which I had never come across before. With the meager salary I got, I could not make both ends meet, and I found her, under one subtle pretext or another, giving me money, clothes, sometimes a watch, whatever I required but could not afford, without making me feel embarrassed. Even my entertainments and recreations, such as movies, were arranged and paid for by her. Typical of her was one such method; she would ask me to go and see such and such a movie and come and relate the story to her, so that she could entertain her friends with the story without herself having to spend time to see the movie.
In the office she was a very strict boss and a hard task master, brooking no negligence or inefficiency, but beyond office hours, she would sympathize with me for the tough treatment given tome by my boss! It was this combination of strict discipline and extreme love that has molded me. For me now she was Didi – and later Ma.
I had the unique opportunity of observing her closely during the period of her Puja and Sadhana. She would be deeply engrossed in Ramji through the day, oblivious of her body, taking no notice of the insults occasionally hurled at her by those she served; and yet neither her office nor those who came to her for help were neglected in the least.
During those days, several sports coaching camps were held at her house for lack of accommodation elsewhere. During each such camp fifty to sixty girls would be provided board and lodging for a week to ten days. They were all very well looked after and entertained by Ma, yet that did not break the continuous string of her prayers and Puja. As the Secretary of the All India (Women's) Hockey Association, she organized many Sports Tournaments; but what was unique about her work was that after completing the work of organizing, she would invariably receded into the background, quietly slipping away, under some pretext, pushing her subordinates into the limelight, so that they got all the credit – and the encouragement.
When Ma finally left her job, her job was so well organized that it needed less than an hour's work each day, and she resigned as she did not feel justified in drawing her salary on that much time given by her to the job. She proceeded to Rishikesh, and as I could no longer remain away from her, although I had no interest in spirituality, I followed her whenever she went, taking up some small job for my sustenance. Ultimately, Ma permitted me to join the small but ever-expanding family that gathered around her. What greater luck could I have expected in life? My only aspiration in life is to become worthy of her love and grace through dedicated service to the rest of the world. She had always encouraged us thus: "Whatever you have got from me, go distribute it to the rest of the world".
Innumerable are the instances of her love and generosity towards me, and their first hand experience has become a rock base of faith and courage in these divine qualities. May I prove worthy of her and the divine qualities in her!