Celebrations & Festivals
26th August: Arpana Day
On the auspicious occasion of Param Pujya Ma's Birthday, Satsangis, friends and numerous invitees, including hundreds of people from the nearby villages, come to Arpana and join the members of the Ashram to celebrate Param Pujya Ma's advent into the world.
A day of great rejoicing and thanksgiving to the Lord. On this occasion, the Arpana Family presents a sound & action dance drama based on devotional stories told by Param Pujya Ma.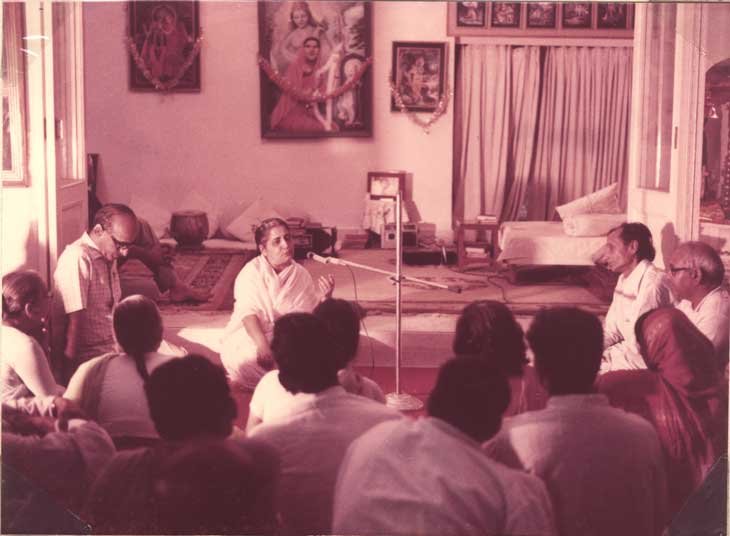 2nd October: Urvashi Day
The divine cascade of pure and enlightening knowledge, called 'Urvashi', started flowing forth from Param Pujya Ma's lips as a Gift from the Lord to His sublime Devotee, on 2nd October 1958. It commenced on the birthday of Pujya Chhote Ma, who captured this Divine flow of Param Pujya Ma's prayers and songs on paper, throughout the four and a half years of the daily miracle.
9th March: Sadhana Day
9th March 1958 marked the beginning of Param Pujya Ma's intense spiritual practice – Sadhana, when she met Dr J.K. Mehta, a renowned doctor and ardent spiritual seeker. From this day, also Dr. Mehta's birthday, he became Ma's mentor. After 5 years of close observation a supreme realisation dawned on him: he recognised Ma as the perfect embodiment of the Scriptures.
16th April: Samadhi Divas
This day in 2008, Param Pujya Ma shed her mortal frame to abide in the hearts of all those whose lives she touched. As the immortal Self of All, Param Pujya Ma has proven time and again that she is indeed with us through every moment, guiding our lives, our work and our span of life upon this earth with the inspiration of her life's deeply spiritual example. Those who gather together in prayer and a silent offering of frankincense at the sanctified space where Param Pujya Ma was last laid to rest, seek the blessings of their Beloved Guru to grant them strength to fulfill the immense work she had initiated in the service of humanity.
Other Festivals
Seekers of different faiths reside at the Ashram and important dates of different religions are celebrated at Arpana
New Year's day, ushering in the new year in prayerful devotion
Lori, a festival celebrating the conquest of evil
Mahashivratri, celebrates how Shivji saved the world
Holi, the spring festival of colours
Ram Navmi, the birth of Lord Ram
Janamashtmi, the birth of Lord Krishna
Dussehra, celebration of Good winning over evil
Diwali, celebration of Lord Ram's return from exile
Christmas, the birth of Lord Jesus
Copyright © 2019, Arpana Trust
Site
designed
,
developed &
maintained
by

.