Sharing the bonds of a Universal Family
Life at the Ashram
"To pray, work and eat together constitutes the foundation of happiness in community life."
Param Pujya Ma
It is in our daily prayers
that we can collectively discover
the essence of the Lord's injunctions
and the sheer beauty and joy
of imbibing them in practice.
One is also awakened to those subjective influences
that hold one back from
the attainment of perennial joy
which in fact is the birth right of every being.
As we share our meals in loving togetherness
our hearts lift in gratitude to the Lord
and to our Spiritual Mother
for providing this benediction to each one of us
so that we may then expend our energies in service.
To serve together is a blessing in every way…
for, even as we perform the allotted duties
we are conscious always
that all credits are shared even as are the duties
and thus remain free from the shackles of egoity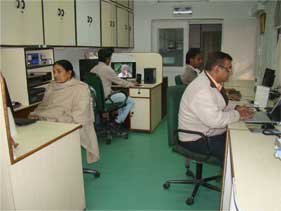 7 am-7.45am

 8am- 9am

Param Pujya Ma's Video Satsang – Research

Breakfast – eaten together in common Dining Hall

9.15am – 9.35am
Prayer in Arpana Temple with Hospital & Service Employees (Staff)
9.45am – 1pm
Service through varied activities in a spirit of selflessness
1pm – 2pm
Lunch – Dining Hall -a meal eaten in a spirit of togetherness
2pm – 4pm
Selfless Service
4pm – 4.30pm
Tea – Dining Hall
4.30pm – 6.30pm
Selfless Service
7pm – 7.45pm
Urvashi Bhajans
Param Pujya Ma's Video Satsang – Research
Aarti
8pm -9pm
Dinner – A meal eaten in a spirit of togetherness
On Sundays
9.30am-10.30am Param Pujya Ma's Video Satsang
Cultural Activities and relevant Satsangs are held on Special Days:
Sadhana Day – 9th March, Mahasamadhi Day – 16th April
Arpana Day – 26th August, Urvashi Day – 2nd Oct.
Lohri, Holi, Ramnaomi, Karva Chauth, Janamastmi, Diwali, Christmas, New Year
Copyright © 2019, Arpana Trust
Site
designed
,
developed &
maintained
by

.